Een gebruikersvriendelijke ervaring met sunlite suite 3
De nieuwe SUNLITE-EC is beschikbaar. Met 1024 DMX-kanalen (uitbreidbaar tot 2048), 4 XLR-connectoren, een slanke antraciet donkergrijze behuizing en een verlicht toetsenbord, biedt de nieuwe SUNLITE-EC een krachtige en gebruiksvriendelijke ervaring met Sunlite Suite 3.
De verkoopprijs voor de sunlite EC zal zijn € 499,00 excl. BTW en is uit voorraad leverbaar
EXPRESS
If working under EXPRESS mode, Sunlite SUITE 3 does not allow the use of AUDIO/VIDEO, the sync with Midi Time Code nor the use of time triggers.
Having said that, the EXPRESS mode can be enough for most of the applications.

FULL
Time triggers, multimedia (AUDIO and VIDEO), Midi Time Code sync...Everything is available, you will not need to buy any extension to take benefit of the software power. The FULL mode can be required should you want to build a fully synchronized show.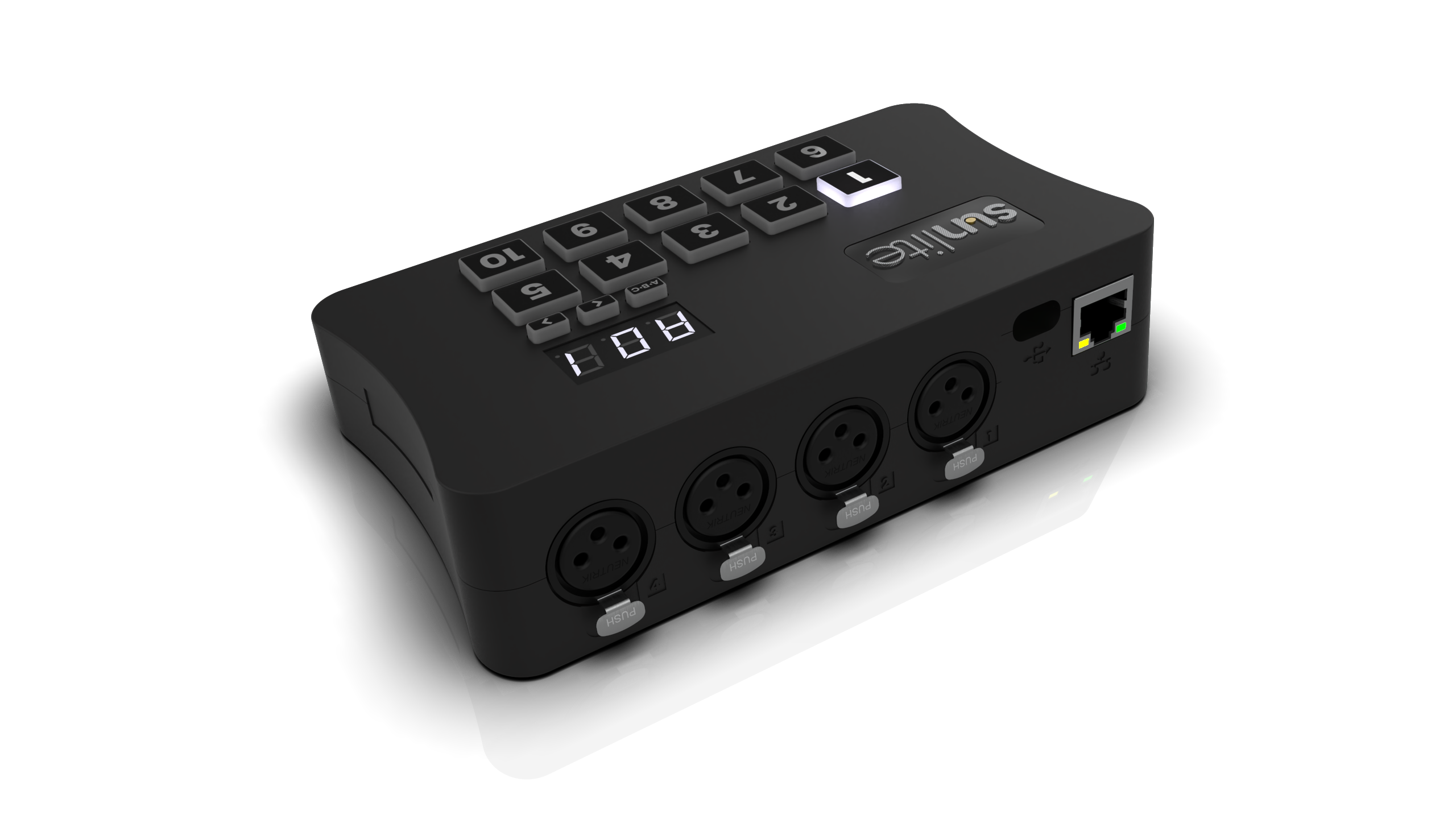 The SUNLITE-EC comes with a microSD stand alone memory, allowing for programmed shows to be run in stand alone without a computer. This powerful feature is perfect for smaller shows where a computer is not needed, as a backup in case of computer failure, for rental applications or for architectural installations.

The stand alone scenes can be changed via the backlit keyboard.
| | SUNLITE-EC |
| --- | --- |
| Price (excluding VAT) | 499€ / $599 |
| Availability | |
| Upgradable | |
| Housing | Plastic |
| Ethernet | |
| RDM | optional* |
| Connector | USB Type-C |
| LIVE USE | |
| DMX channels | 1024 (exp. to 2048)* |
| ArtNet channels | option* |
| Sunlite Suite 2 (PC) | express (see above)* |
| Sunlite Suite 3 (PC) | express (see above)* |
| ESA2 (PC, Mac) | |
| Legacy Sunlite software (PC) | |
| MIDI triggers | |
| EasyRemote app | |
| Buttons | 13 |
| STAND ALONE USE | |
| DMX channels | 512 (exp. to 2048)* |
| Memory | Micro SD card |
| Clock/Calendar triggers | option* |
| Buttons | 13 |
| Dry contact ports | up to 16* |
| | |
POSSIBLE EXTENSIONS
FOR YOUR SUNLITE-EC
Powered by DMXSoft.com, the SUNLITE-EC interface can be upgraded to work with more DMX channels or the FULL version of the software separately. Below is a summary of the upgrade pricing at store.dmxsoft.com

Prices and details of the extension possibilities are available here SUNLITE extensions program
512 channels - Live
$99
512 channels - Stand Alone
$99
Sunlite Suite 3 full mode - 1 year
$29
1 Art-Net Universe
$99
Unlimited Art-Net Universes
$499
RDM / RDM Manager
$29
16 Dry Contact Ports - Stand Alone
$29
Time/Calendar triggering - Stand Alone
$29